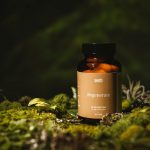 Regenerate - Magic Mushroom Capsules
$72.00
Microdose Shroom Capsules with Golden Teacher Mushrooms, Lions Main, Chaga, Reishi, and Cordyceps.
In stock
Description
Not only does each Regenerate mushroom capsules contain Golden Teacher mushrooms, but it's also packed with other mushroom extracts – Lion's Mane, Reishi, Cordyceps, and Chaga – for a more balanced mix. It also contains niacin and a lower dose of psilocybin, so you can steer your path better. All in all, this concoction can help improve brain function and boost immunity.
Quantity:
30 capsules per bottle
Ingredients
+ 75mg Golden Teacher Psilocybin
+ 5mg Niacin
+ 75mg Lion's Mane Extract
+ 75mg Reishi Extract
+ 75mg Cordyceps
+ 75mg Siberian Chaga Extract
Regenerate magic mushroom capsules contain Golden Teacher magic mushrooms, a strain of Psilocybe Cubensis, a spiritual classic that has been around for ages. It also contains the cognitive and immune support of spore strains like Lions Main, Chaga, Reishi, and Cordyceps. Vitamin B3 ensures the benefits of these wonderful mushrooms getting deeper into your cells.
The best thing about Golden Teacher magic mushrooms is that they offer a mildly high psychedelic effect, hence it is a gateway shroom for magic mushroom newbies. They are best known for their shamanistic properties, or spiritual effects, rather than solely ''tripping''. Enjoy the journey of spiritual exploration through the spiritual classic that has been around for ages.
Dosage
Great for all around wellness without the intoxication of higher doses of Psilocybin. A true microdose!
Enjoy and consume responsibly. Dosage varies based on tolerance and body weight/composition, we recommend starting with one capsule daily and taking the weekends off.
Shipping and Packaging
Store pills in a cool and dry place.
Buy Path mushroom capsules in Canada and get FREE shipping for orders over $225.
All our products are packaged discreetly–contained in a generic mailing bag, with no labels that say "Path".
Only those 19 years old and above can order. For security reasons and to prevent fraud, we may require signatures for any order.
Please keep away from children.
Customer Reviews